Across the generations: A grandson interviews Nana
As a high school freshman, Dan Crawley was assigned to interview a family member and prepare an essay. He decided on Nana almost immediately. An eight-page fax of Dan's interview with his maternal grandmother entered the archives more than 15 years later — faded and barely visible in spots, but legible enough to make a transcript. The faxed questions and faxed answers appear to be informed by an earlier telephone interview.
---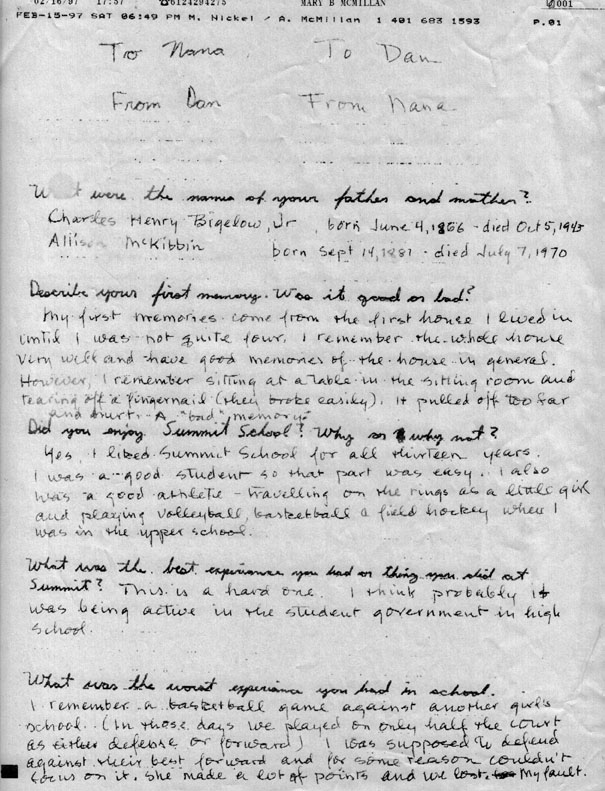 FEB-15-97  SAT  06:49 PM
M.Nickel / A. McMillan  401 683-1593
What were the names of your father and mother?
Charles Henry Bigelow Jr., born June 4, 1866, and died October 5, 1943, and Allison McKibbin, born September 14, 1881, and died July 7, 1970.
Describe your first memory. Was it good or bad?
My first memories come from the first house I lived in until I was not quite four. I remember the whole house very well and have good memories of the house in general. However, I remember sitting at a table in the sitting room and tearing off a fingernail (they broke quite easily). It pulled off too far and hurt. A "bad" memory.
Did you enjoy Summit School? Why or why not?
Yes, I liked Summit School for all thirteen years. I was a good student, so that part was easy. I also was a good athlete — traveling on the rings as a little girl and playing volleyball, basketball, and field hockey when I was in the upper school.
What was the best experience you had or thing you did at Summit?
I remember a basketball game against another girls school. (In those days, we played on only half the court as either defense or forward.) I was supposed to defend against their best forward and for some reason couldn't focus on it. She made a lot of points and we lost. My fault.
Do you remember high school as a good, bad, or mediocre time? Do you have any regrets or joys?
I remember it as a good time, but I didn't have any really close friends and that would be a regret.
Did your positions as president of the Students Association and as treasurer have any influence on you? How did it affect you? Is it something you're happy about?
Well, they were the first of many similar positions I've had throughout my life. We had real leadership training at Summit. The Students Association made a difference. I'm very proud of that school tradition.
Why did you elect to go to Vassar?
Summit's headmistress was a graduate of Vassar. Each year she encouraged the best student(s) in the class to apply. I visited it also and liked the look of it.
What things do you remember most vividly about your years at Vassar?
Singing in the choir, having it rain in the winter (!), being in charge of the chapel services in my senior year, the friendships I made, the beauty of the campus, riding my bike down the hill to the music building. (They've built a new building right over that path!)
Why did you think it was a mistake to major in physics? What would you have rather majored in?
Because after the first year, I really didn't understand it. But by the time I realized that — my senior year — it was too late to change. I should have majored in music. I took voice lessons for four years, but not for credit.
What did you enjoy most at Vassar?
Singing in the choir. I loved the music we sang. We sang at the Sunday chapel services and also at concerts — once at Carnegie Hall in New York City, once or twice with men's choruses from other colleges. Before Christmas break we would sing carols from the roof of the library. Magical.
What was your life like during the Great Depression? What effects did you feel?
My family was not affected by the Depression. My class at Summit, though, went from about 20 down to seven in eighth grade because parents of many in the class could not afford the tuition.
What was it about the choir that you enjoyed so much?
Singing released something in me — a freedom to relax, to joke. I also could be helpful in choir because I was a very good sight reader, had a strong voice, and could carry my section along as they learned.
What were your first impressions of Grandpa upon seeing him in choir?
I knew right away that he was a McMillan! That family sat near us in church, and they were all distinctive looking and handsome. The first night we were there together, we sat at opposite ends of the row. I made some joke — when I'm relaxed, I'm apt to make some pithy one-liners — and he made some response back. Wow, I said to myself, he's noticed me!!!
When did you and Grandpa decide to get married?
In May 1942, just before he left to go into service in the Navy Air Corps.
When did you move to Florida?
We moved after we were married in June 1943. Grandpa was an instructor at the Naval Air Base. (We had to wait to get married until he became an officer.)
Did you like life in Miami? (It was Miami, wasn't it?)
We lived just outside Miami in Opa-locka in a nice little house provided by the Navy until April 1945. It was a quiet life which I liked — except for the summer heat — very much.
How was life for you during World War II?
As I said, Grandpa was an instructor — first for dive bombers, then for instrument flying — for almost two years. Before we were married, I worked as a volunteer nurse's aide. We had gasoline rations and also food rationing, but otherwise for us it was a good time.
When did you return to St. Paul?
We returned to St. Paul in April 1945 and I stayed there because Rick had been born in Florida and I was pregnant with Charlie. Grandpa went to California to train to go to the Pacific, but the war ended before he even got to Hawaii.
What was it like raising five children? Was it difficult to remain involved in charities and other groups? I was always glad there was space between Charlie and Doug and between Allison and Anne. Grandpa was a wonderful help. It was easy and cheap to get sitters, so I was able to get out of the house during the day to do the volunteer activities that appealed to me.
When did you buy the house on White Bear Lake?
We bought the home from my mother in 1956.
When did you move out there year-round?
We moved out in 1973 when Anne was a senior at St. Paul Academy–Summit School and could drive to school.
How did it feel once Anne left for college? In what ways did this affect your life?
To be only two again is different. The major change was that we bought an apartment at Innisbrook in Florida and gradually spent more and more of the winter months there.
When did you buy at Innisbrook?
May 1973.
What was it like when Grandpa sold his business to Grainger?
It was fine for a while, but it wasn't long before he knew that golf was not going to be enough to do. So it was very fortunate that Grainger closed the plant and Grandpa was able to buy most of it back and start again with Doug.
Why did you decide to become a minister? When did you decide?
This is complex because my becoming a minister was due to a vacancy at House of Hope that I was called to fill. But I changed my degree program at seminary to the required degree because I wanted to be prepared to be a minister. Among other things, the women were saying to me, "If we are trying to be ministers, why aren't you?"
When were you ordained?
June 1978. (I entered seminary in the fall of 1973.)
What drove you to be active in charity organizations such as the Junior League, Ramsey County Welfare Board, the Wilder Foundation, and in the church?
My father and mother were both active in civic and charity work, and I always expected to work in that way. The Junior League was a training organization for women in volunteer leadership and it helped me to be successful in every other organization.
What was it like being the first woman on many boards and committees?
I was accepted pretty quickly because I was good at numbers and so understood the budgets. I also spoke directly to the issues (that's hard — or was — for some women). If any of the men thought I would just sit there, they were surprised!
How do you feel about the progress of women in your lifetime?
We're suffering a bit of a backlash now, but we've come a long way. But we've had to put ourselves into a male way of doing things. That takes its toll. (By "male way," I'm thinking of acting within rules and up-down structures. Women are more relational; they treat each situation differently.)
From 1919 up to today, do you think the world has become a better or a worse place to live?
This is very difficult to answer. We've become "one world" through television, etc., but we're more individually isolated. We have drugs which have lengthened life enormously, but now we have Alzheimer's and AIDS. Except in small towns and churches, we've lost the sense of community caring. Welfare becomes the number of dollars rather than the care of people. Better or worse? Neither, only different.
What are your one or two best memories?
I think seeing your babies is the most wonderful memory possible. And then all our family gathered together in Colorado. That was surely the best, especially when you all gave us the memories book. My ordination ceremony also.
What was the happiest time of your life?
The year Grandpa and I had in Arizona. We shared so much.
What were the worst memories you have? What was the saddest time of your life?
I can't really qualify memories — they are just that. And now as I write, I think of my junior year in college, when I was told by my friends that I could not be in their group for choosing rooms in the senior dorm because I had asked a Jewish girl to join us. This perhaps was saddest also. As it turned out, the person I ended up rooming with is still one of my dearest friends.
Do you think technology and the so-called "digital revolution" has had a positive or negative effect on society?
Does "digital revolution" mean computers, etc.? I have some doubts about the worldwide web, etc. Will we be just a nation of individuals glued to our compter screens?
What do you think the most important technological development in your lifetime is? How has it affected you?
Television, because we can see and not just read or hear about what is happening all over the world. But more important — the atomic bomb. That affected Grandpa and me directly. He was a splendid flyer, but the difficulty of defeating the Japanese without the atomic bomb is underestimated today. Grandpa and many, many others might have been lost in that job.
Thanks for taking some time to answer these questions.
Love you, Danny. You gave me quite an assignment. A happy time in my future is when you, Susie, and Anson come for a visit in June.
— Nana