Dodo Knief: Live wire, columnist, woman of mystery
Dodo Knief seems to have been a free spirit whose relationships with certain of her siblings were not always close. She took over her mother's newspaper columns (Daheim and Frauenfleiß, possibly others) and wrote them for more than two decades until the German-language publications were discontinued in the 1940s.
---
Dora (Dodo) Knief
So why all the apparent tension in the air at Uncle Paul Mueller's wedding? Why would Paul's mother (Frau Erica) make such a feeble effort to attend? Why would Paul's father and 15-year-old kid sister arrive by train at 7:20 p.m. for an 8 p.m. wedding — and then catch the 4 a.m. train home? Why would all the Schumms suddenly call in sick?
There is family oral tradition involving Dora (Dodo) Knief, who helped host her younger brother Paul's wedding. The archives offer no help in sorting out how much of it is true and how much is speculation, but some parts have multiple sources deriving from Dodo's siblings and seem fairly certain.
This much seems true: When she was 19 or 20 years old — about five years after the Muellers had moved to Chicago from Kendallville, Indiana, and her father had become superintendent of Concordia Cemetery — Dodo met an Irishman, a streetcar conductor. They eventually ran off together and were married. Wilhelm and Frau Erica went after them, found them, brought Dodo back and had the marriage annulled. But Dodo was already pregnant.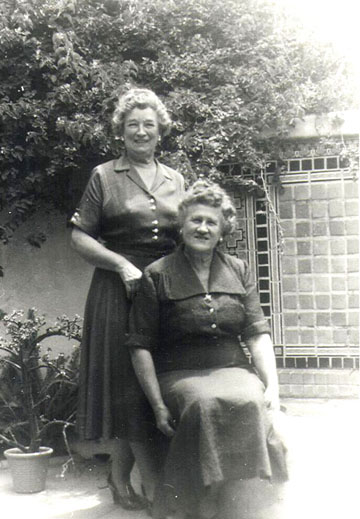 Aunt Lal and Aunt Ellen
Adelheid Mueller Amling (Aunt Lal) and Aunt Ellen, seated, sold real estate in California.
Photo, August 1955, from Frieda Gilvarg's collection
The story becomes more speculative after that. According to the dominant line of oral tradition, Wilhelm and Frau Erica raised Dodo's baby as their youngest daughter Ellen. In some accounts, Frau Erica is said to have taken to her bed for three months in order to create the plausibility of a pregnancy. Frau Erica would have been 48 years old.
The family supported — some say arranged — Dodo's marriage to her first cousin, Friedrich (Fred) Constantinus Knief, eldest son of Dodo's Aunt Theodora Mueller and her husband, Rev. Ludwig Knief. By all accounts Fred and Dodo's was a good and loving marriage. Dodo evidently remained on good terms with her parents, inheriting Frau Erica's German newspaper columns and continuing them into the 1940s, when most German-language periodicals went out of business. She became well-known in German Milwaukee as Frau Grete, a writer and columnist for Germania.
Bits and pieces of rationale for that story are also part of the oral tradition. The Mueller family always seemed to be highly protective of Ellen — one explanation for her very brief appearance at her brother Paul's wedding. She lived most of her adult life in California with her sisters and never married.
One version of the story says that Wilhelm and Frau Erica covered for Dodo's pregnancy in order prevent a scandal in Lutheran Church — Missouri Synod circles that could have threatened the ministerial careers of their sons Ernst and Paul or possibly Wilhelm's own position. Ernst (Opa Mueller) is said not to have cared much for his sister Dodo. The Schumm family's avoidance of the Kniefs suggests that all was not well on that front either. ("They will not show up here unless it is for my burial," Dodo wrote.)