Klaus Mahler's Erbschaft
Bethlehem Steel and Russian Railroads
Although it arrived after Wilhelm and Adelheid were both dead, the Muellers received an inheritance — eine Erbschaft — from the estate of Adelheid's uncle Klaus Mahler. It was delayed by World Wars, the Russian Revolution and the Cold War, but it did arrive — in two parts, one in 1929, the other in 1958.
---
In the early 1950s, the eight surviving children of Ernst and Helen Mueller, as well as their surviving Mueller aunts and uncles, set out to recover the remainder of what had once been a substantial estate in Germany. Most of that estate had been distributed in 1929 through a foreign repatriation program of the U.S. government, but a small portion had been tied up in Russian ventures and was beyond the reach of Washington. This later inheritance — the second Erbschaft — was the subject of much correspondence and family research, but yielded less than $100 per capita for the children of Ernst and Helen.
Klaus F. Mahler (1828—1916), uncle of Adelheid (Frau Erica) Rickmeyer, was a successful German businessman who at one time held a considerable investment position in Bethlehem Steel. The U.S. economy was then not the world-beater it eventually became, however, and Klaus lost confidence in his American investments. He sold his Bethlehem Steel stock and moved part of his money into Russian railroads — a safer investment because the Czar still ruled Russia and the Kaiser still ran Germany. It was the Russian railroad investment that made possible the Erbschaft project of the 1950s.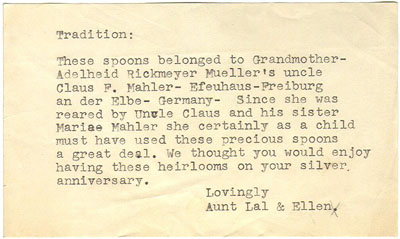 Klaus lived in Freiburg an der Elbe. He owned das Efeuhaus (Ivy House), an ancestral home from which Adelheid Nickel transplanted ivy to Oregon when she visited in the 1980's. Although the archives have no details or dates, Frau Erica's mother (Doris Mahler) died; her father (Ernst Rickmeyer) remarried. Klaus and his sister Marie appear to have raised their nieces and nephew. This comes from a note that accompanied a gift of heirloom silver spoons from Aunts Lal and Ellen to Hilbert and Adelheid Nickel on their silver anniversary.
Whether he was a lifelong bachelor or married without children, Klaus apparently had no heirs. When he died in 1916, his estate passed to Doris's children.
Negotiations to collect the inheritance did not begin for a decade or so. U.S. officials had advised the family that the German Mark had been so devalued that recovery efforts would not be worthwhile. The matter was dropped, and the three Rickmeyer children who had inherited the estate — Adelheid, Carl and Marie — soon died. Marie, a writer of short stories who apparently never married, died in 1919 and left her estate to her sister Adelheid (Frau Erica) in America. Carl Rickmeyer died in 1920; Frau Erica died in 1921.
Late in the 1920s, Paul Knief, a young journalist working in Los Angeles, alerted Frau Erica's Mueller children that claims could be filed with the Foreign Claims Commission in Washington. Few believed it was worth the trouble, but William Mueller, living in La Grange, Illinois, took on the project. He and Paul Knief began to gather information and fill out forms. In 1929, the U.S. government finished gathering orphaned investments from Germany, including those that were due the Rickmeyer children. Each of Adelheid Rickmeyer's eight Mueller children received between $2,000 and $3,500. They bought Paul Knief a beautiful Gruen gold watch as a thank-you present. They also paid back a loan on behalf of their deceased parents. The loan had been made by Helen Hedder, wife of their brother Ernst Mueller, perhaps around 1905.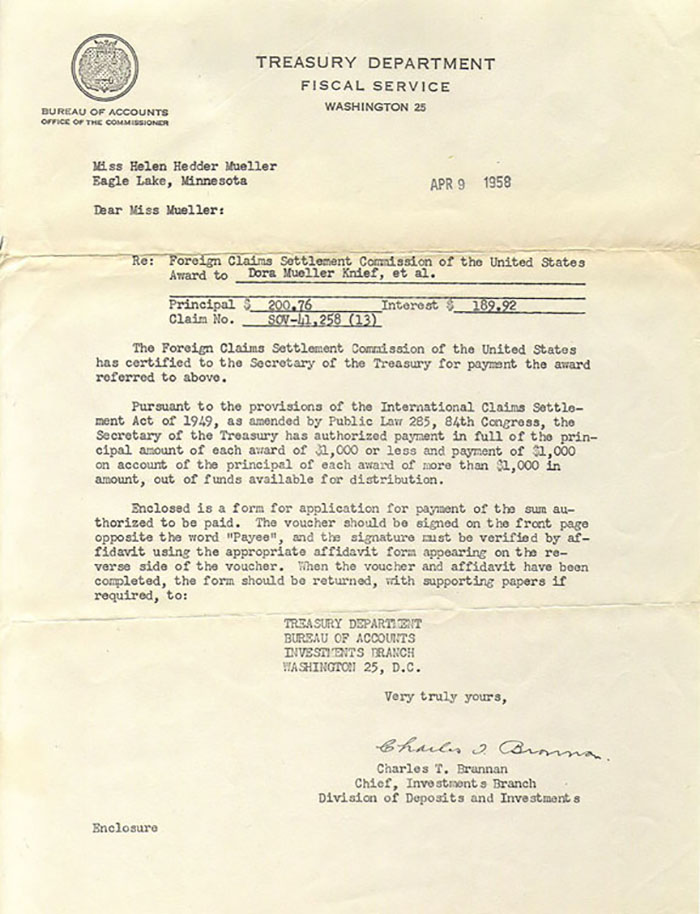 It would have ended there, except for the Russian railroads, which were beyond reach of Washington at the time. From time to time during the following two decades, William Mueller of La Grange made inquiries about "the Russian papers," but to no avail. In the late 1940s, his sister Ellen urged one more serious effort. The children of Ernst and Paul Mueller, both now deceased, joined the effort.
In order to qualify, the Mueller children needed to establish their identities for the Foreign Claims Commission. Birth certificates proved difficult to find, particularly for the older children of Ernst, who were born in Madison, Minnesota. Birth registry was usually left to the country doctor — a Dr. Gamble — who would drive out into the county to attend births in the home, then file the paperwork after he returned to town. Or not. Gerhard was listed in the courthouse registry as "Baby Mueller." Frieda was not mentioned at all in the records, having been born during a raging blizzard. Ernst Jr. was born June 27, but Dr. Gamble evidently changed the date as a birthday present to the father, whose birthday was June 28. The confusion of dates was a problem. Ernst's widow, Helen (Oma Mueller), swore affidavits for the birth of her children, and those, together with the more carefully kept baptismal certificates, appeared to satisfy the government's requirements.
The rest of the original Erbschaft came through in April 1958 (Claim No. SOV-41,258; Decision No. SOV-2363). (Click on the document, right, to read a full-sized version of Helen Mueller's settlement letter.) A total of $9,376.32 ($61,283 in 2004 dollars) in principal and interest was paid out according to the following schedule:
One eighth share, amounting to $1,172.04 ($602.28 in principal; $569.76 in interest, figured at 6% per annum from Feb. 10, 1918, to Nov. 16, 1933) each, paid to surviving children of Wilhelm and Adelheid Mueller: Dora Mueller Knief (Aunt Dodo), Frieda Mueller Feiertag (Aunt Fieks), Adelheid Mueller Amling (Aunt Lal); William Louis Mueller (Uncle Bill), and Ellen Mueller.
One twenty-fourth share, amounting to $390.68 ($200.76 in principal; $189.92 in interest) each, to the three surviving children of Louis and Marie Schumm, both deceased, and to Helen Hedder Mueller, widow of Ernst Mueller.
One thirty-second share, amounting to $293.01 ($150.57 in principal; $142.44 in interest) each, to the four surviving children of Paul Gerhard Mueller.
One ninety-sixth share, amounting to $97.67 ($50.19 in principal; $47.48 in interest) each, to the eight children of Ernst and Helen Mueller.