The Muellers of Freedom Township
Erna was known to her siblings as "Great Big." As the oldest child (23 years older than her youngest sister), she was both sibling and parent, helping to keep order in the Mueller household. Erna married Ernst Marquardt, son of Gustav and Martha Marquardt, one of the founding families of the congregation. Ernst and Erna lived on their farm at Box 43, within view of the parsonage.
Frieda never married, but was one of the most beloved of aunts. Lili, Fifi, Flett — each family had its own name for her. Frieda was a teacher in Michigan. She loved the independent living that came with a career but didn't care much for teaching. When Opa summoned her home — "Fritzen muß Heim" — she returned to Minnesota, cared for her parents during their lives, and set up households for her bachelor brothers Gerhard and Herbert. Elder care suited her. She later moved to Arlington Heights, Illinois, earned her LPN license, and was a supervising nurse at the Lutheran Home for the Aged.
Gerhard, an ordained Lutheran minister, never married. He had difficulties with a congregation in northern Minnesota, was removed from its ministry, and became ever more reclusive and obese. He served several small rural congregations in the northwoods without a regular call, subsisting in near poverty. He was an enigma even to his siblings, with whom he remained close.
Adelheid was a teacher and organist first in La Crosse, Wisconsin, and then at St. Lucas Lutheran Church in Milwaukee, where she met and married her landlords' son Hilbert (H.C.) Nickel. Hib and Addie began married life in Oak Park, Illinois. They had four sons. After H.C.'s death in 1966, Adelheid returned to her teaching career, then retired to Portland, Oregon, near two sons and her grandchildren.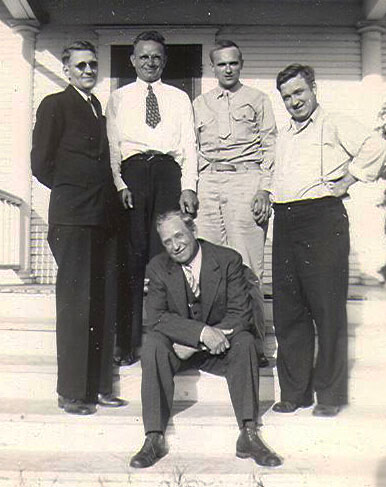 Ernst attended Coyne Electrical School in Chicago and tried briefly to establish his own electrical motor repair business in Eagle Lake, where he lived after marrying Charlotte Orens. Ernie and Charlotte were live wires — funny, entertaining, involved in town affairs. Charlotte taught; Ernie kept a large garden ... and was an early adopter of the Edsel.
Kurt was a pharmacist. He was the only family member to serve in the armed forces and was at the Battle of the Bulge. Military service left him changed, shell-shocked perhaps. He ran his own drug store in Grove City, Minnesota, for a few years after the war, then worked at a number of pharmacies in Waseca, Anoka and elsewhere. He and Lorraine (Pautsch) retired to Mankato.
Herbert was an ordained Lutheran Church–Missouri Synod minister. Known simply as "H," he served rural and small-town parishes in Minnesota and North Dakota before moving to Frankenlust, Michigan. H and Ruth (Polley) had seven children. They retired to Hoagland, Indiana, about 30 miles south of the original Mueller Farm.
Max died about four months before his seventh birthday. In a reminiscence written decades later, his brother Ernie said Max died of food poisoning.
Norma — Non, later Nony — married Armin Grams, a developmental psychologist, and moved with her young family from Brookfield and Evanston, Illinois, to La Crosse, Wisconsin, and to St. Paul. Her mother and her sister Frieda lived with the Gramses until Helen's death. Frieda moved to Illinois; Non and Armin moved to Grosse Pointe, near Detroit, and then to Burlington, Vermont.