Pastor Herbert C. Mueller
This brief biography was printed in the program for the celebration of H's 25 years in ministry.
---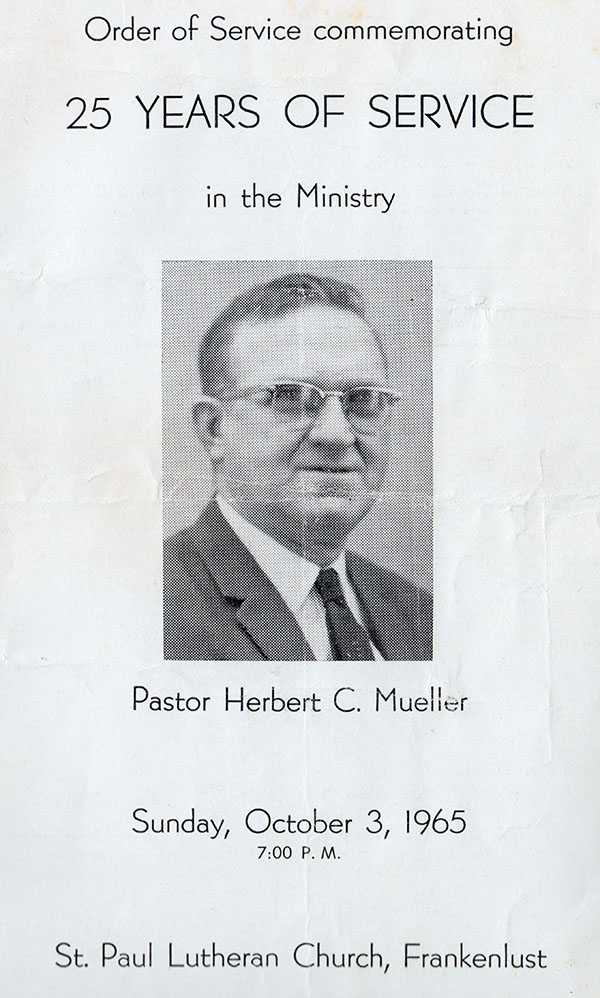 Pastor Herbert C. Mueller was born February 6, 1914, near Janesville, Minnesota, the son of Rev. and Mrs. E.H.C. Mueller. He attended Immanuel Lutheran School through the eight grades. After one year in the public high school at Waldorf, Minnesota, he decided to become a pastor and entered Concordia College, St. Paul, Minnesota. After his graduation, he attended Concordia Seminary at St. Louis, from which he was graduated in June 1939.
He vicared during the school year 1937-38. For four months he taught a small one-room Christian day school in west-central Minnesota near Appleton. The rural Appleton congregation, at that time, had two schools, with the branch school operating only until Christmas. For the next six months he was student assistant to Rev. E.C. Hallstein in Barnum, Minnesota. Pastor Hallstein had six congregations and preaching stations in the vicinity of Duluth, Minnesota.
Upon his graduation there were only four calls available for about 300 candidates. Awaiting a call into the Lutheran ministry, he taught the four lower grades of Zion Lutheran School, Mayer, Minnesota, from September 1939 to June 1940.
His first call took him to a two-congregation parish in western North Dakota — Trinity and St. James Lutheran, Hazen, North Dakota.
In June 1943 he accepted a call to serve St. Andrew's Lutheran Church, Niagara, and Zion Lutheran Church in Michigan, North Dakota. For several years he served a small congregation in Lakota. Grace Lutheran Church, Lakota, organized its congregation with Pastor Mueller as their first pastor. He also served a congregation at Inkster, North Dakota, while living at Niagara. After nearly 12 years in this parish, he accepted a call to St. John and Peace, Claremont, Minnesota. During this time the Peace congregation built and dedicated its new hourse of worship.
In September 1956 he accepted a call to serve Holy Cross, Lidgerwood, North Dakota, where he served until April 1963, when he accepted the call to serve St. Paul Lutheran Church at Frankenlust, Michigan. While he served at Niagara he started a one-room Christian day school and taught it himself for one year in addition to his pastoral duties. This school remained in operation for fourteen years even though the congregation numbered fewer than 150 communicants.
On August 10, 1952, he was married to Ruth Polley of McIntosh, Minnesota. This union has been blessed with six children: Herbert C. Jr., 12; Jonathan, 11; Ruth, 10; Devorah, 8; Robert, 7; and Timothy, 4.