Heppen, a German soul food
While the Muellers may have styled themselves as sophisticated immigrants, the Nickels were more straightforwardly blue-collar. Opa Mueller made his Kaiserliche Mettwurst, a rich, whole-hog, gently smoked sausage; the Nickels made Heppen, a pickled melange of organ meat with excellent keeping qualities — South Milwaukee's answer to chitterlings and collard greens. H.C. Nickel made a special trip to Milwaukee to talk the recipe through with his mother, getting her to make reasonable estimates of the amounts, hoping to recreate a taste from his childhood. "How many beef hearts?" "Well, maybe four."
---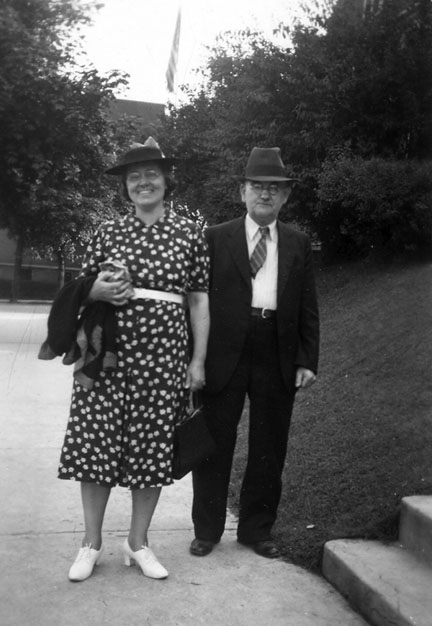 Food for the German soul
Al and Megs outside their home on Howell Avenue
The Recipe
2 1/2 lbs. beef (chuck), cubed
4 beef or veal hearts
1/2 lb. bacon, chopped
2 large onions, chopped fine
1 onion, sliced
3/4 cup vinegar
bay leaves
whole allspice
whole black peppercorns
salt
Add to a large pot the beef with 10 whole black peppercorns, one large bay leaf, 6 whole allspice kernels, the sliced onion, and water to cover. Bring to a boil, then cover and simmer until the beef is fully tender. Strain and save the broth.
Trim away the top flaps of the hearts, then cut them in half. Put them in a large put, cover with water, and add 1 tablespoon of salt. You may also add bay leaf, allspice and peppercorns as for the beef. Boil until the hearts are tender. Remove the hearts and chop them into small cubes. Discard the broth in which they cooked, as it is rather bitter.
In a large pot, combine chopped hearts, reserved beef broth, and vinegar. In a separate pan, fry the bacon and the chopped onions until the onions are transparent and much of the bacon fat is rendered. Add onions, bacon, and bacon fat to the hearts that are sitting in the beef broth. Add 12 crushed black peppercorns, 2 bay leaves, and a few more allspice. Stir well. Pour into a crock and store in a cool place.
Imponderables
The recipe is silent on the fate of the original beef. It appears not to be part of the final dish, having given up all its flavor to the broth. Use judgment and common sense.
Likewise the bacon fat. Bacon fat — particularly in combination with vinegar — was routinely used in German immigrant cookery, by Frau Erica and the Muellers as well as by Nickels and much of the 19th-century Missouri Synod. (It was an essential ingredient for Grünkohl und Speck.) Modern tastes and health concerns might recoil, but some of the fat is necessary for authenticity. Maybe cut back a bit.
Once the hearts, onions, bacon fat and vinegar are united, does the entire final dish get another cooking? The recipe is silent on that as well. Heating everything through makes sense, but the final two chopped onions should probably retain some of their shape and crunchiness. Think of herring in wine sauce.
Keeping qualities. The dish may have been kept in the cellar much like the crock full of sauerkraut. Twenty-first century practice would probably keep it in the refrigerator.