A Fighting Determination to Survive
Kam Kwai Chan, Joyce Leung's mother, wrote the short article, above, for a newspaper in Chicago's Chinatown, where the family had settled. An English translation of her original, prepared for the family by Chin Gin Kwei, follows here.
---
This is my history of being an immigrant to the United States. I believe a lot of Chinese immigrants share the same story as me.
Going back into memory lane 24 years ago, my family of five immigrated to America from Hong Kong. We only had $200 in our pocket, but whether Chinese or American, it's still the same currency.
What were we to do? At the time, we had three precious young daughters, and to see their adoring faces pushed us to be anxious and provide them a good future. We cannot turn back to where we came from. We must with one heart unite and forge on.
Ten years later, we were able to break out of our poverty and face our current status.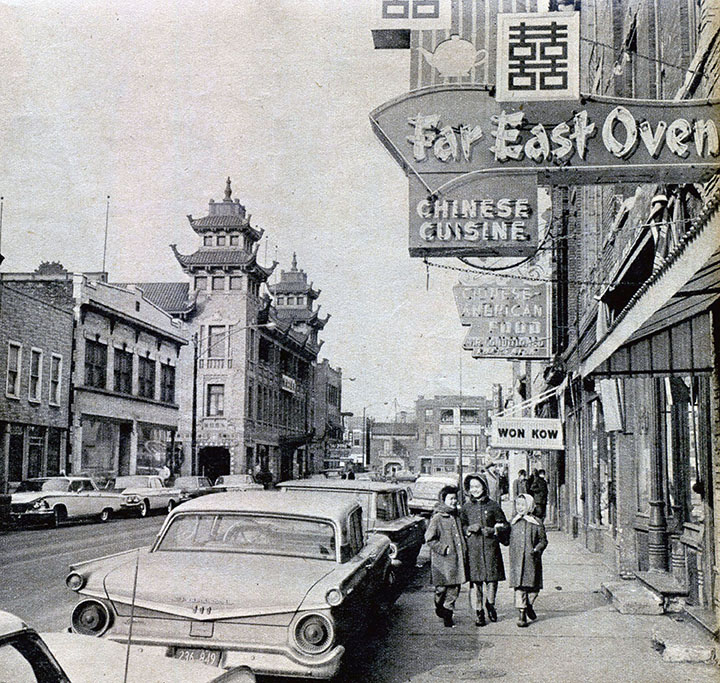 "Lovable yet pitiful"
Joyce (center) and two sisters in Chinatown in the early 1960s. Everyone worked to build the family's future.
Thinking back to the time we came here, we had an addition of another baby girl to our family. So we had a total of four daughters. When our youngest daughter was one month old I went to work in the night shift of a garment factory. My husband was home and looked after the girls while I was out working at nights and worked in our restaurant during the day. We both worked hard to maintain our family.
Fortunately, our daughters were filial and obedient. I remember when my eldest daughter was only 10 and I was giving birth to our youngest daughter. The weather was raining — thunderstorms and lightning. The three girls took an umbrella to the restaurant so their father wouldn't get wet. Their father was deeply touched by this act of love. He told me over the telephone and I wept overnight, never ever forgetting this beautiful gesture. They were lovable and yet pitiful!
Another time our third daughter was home due to illness and did not attend class. I asked her whether she wanted me to stay home to keep her company. She was only 5 at the time. She said no, and off to work I went. During those days, I couldn't afford not to work due to our poverty and had to leave my girls locked up at home when I went to work (latch-key kids.)
During lunch hour, I called home to see how my girls were doing, but no one picked up the phone. I went home during the break and discovered the door was locked and nobody answered it. I had to break the window to get into the house and saw that they were OK. Their father reacted to the situation and laughed at how I could be so careless as to leave my keys at home. Those were the days.
Five years later, we were able to save $4,000 and used $3,500 of that money to purchase a take-out restaurant and start over again. It was neither a failure nor successful — but not a failure, otherwise who knows where we'd be today. It wasn't smooth sailing after the purchase of the restaurant but rather a hard man's life. The restaurant was 15 miles away from home. We'd leave the house at 8 a.m. and not return home until 10 p.m. that evening. Our first and second daughters helped in the restaurant while our third daughter stayed home to look after her younger sister. We labored seven days a week with the whole family cooperating. As a result it broke us from our poverty and gave us a decent quality of life.
At this point, we must give thanks to God, who gave us the wisdom and a brave spirit to work out the difficulties we went through and opened a brave now road for us.