Tante Fieks: Bright and Dark Days
Here follows a biographical essay by Frieda Katharine Magdalena Caroline Mueller Feiertag (a.k.a., Tante Fieks). Fieks apparently wrote this at age 84 for — perhaps at the invitation of — her nieces Frieda Elizabeth Mueller and Adelheid Mueller Nickel.
---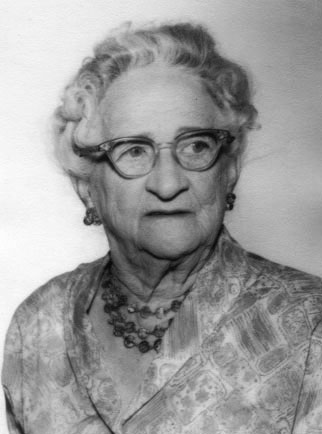 Tante Fieks
Frieda — Tante Fieks — was one of the well-loved California aunts. She came East several times and carried on correspondence with her nieces and nephews. Her mother, Frau Erica, spent her final years living with Fieks in Colorado.
In the days following the happy wedding of Wilhelm and Adelheid, many and varied were the problems confronting the young couple. Especially to the new housewife — how to keep an unpainted pine wood kitchen floor immaculate! Using 12 pails of soapy water at the first cleansing was a hard and back-breaking task! There must be an easier method, and that method, said the new housewife to herself, I shall find!
William worked hard from early to late on the farm and on the fields, his heart filled with gratitude to God for the dear and pious helpmate God had provided for him — his Adelheid! No, not even the fact that poverty was their present lot brought sadness to his beloved's countenance. Smiling, she said, "Why my dear Wilhelm, that is our challenge. God is with us, and will bless all our efforts, all our work. Poverty can never mar our love and happiness! I only ask of you my dear Wilhelm, to have patience with me. I have so much to learn to be a good cook and homemaker!" Adelheid resolved that it would not be proper under prevailing conditions to wear her pretty silk dresses; they simply had to disappear! She carefully folded them — there were so many — to be packed and to be given away. This task was completed — but what was that? A tear? After all, she was a true daughter of Eve and felt a sudden parting pain, but only for a moment.
Adelheid, from her 16th year, used her gifts and talents which God had given her, writing beautiful poems and articles for publication in Germany and now in America. As her "pen name" she selected the name of a tiny flower — Erica [Erikablüte, heather]. Near her home in Germany were fields, called Heide [meadows], filled with those tiny rose-colored flowers, which was a beautiful sight to behold. In the neighborhood of the Mueller farm, Adelheid found some students who wished to take piano lessons. She eagerly accepted this opportunity to earn some money, and taught piano lessons for many years. Often she reached her students' homes on horseback.
There were two homes on the farm. In the smaller one lived Wilhelm's mother with her daughter Gertrud, who very lovingly cared for her mother until her death on April 11, 1880. A few weeks before the birth of Wilhelm and Adelheid's first child, Adelheid, alone and busily working, heard knocking on the kitchen door. Opening the door, she beheld indeed an unforgettable scene. Indians dressed in their native colorful clothes — even feathers in their blue-black hair! Like a flash of lightning, Adelheid remembered: "... and Indians will scalp you and your husband." Oh no, my God is with me! The Indians were making friendly gestures, trying to express their wish for food! That they shall have — bread, milk and slices of meat! How much the Indians enjoyed being fed so well! They were indeed grateful to their young hostess! What a prayer of thanks to the Lord for His gracious protection — and what a surprise story Adelheid had to tell her Wilhelm when he came home!
On October 16, 1868, Carl Friedrich Wilhelm was born and gladdened the hearts of the young parents. Their happiness seemed so complete, in spite of many farm problems and frustrations they had to overcome. The enclosed photograph of the happy parents with their darling "Fidie" was taken on May 11, 1869. The young mother was getting more and more accustomed to the American way of life. Baking and cooking no longer seemed a dark and dismal daily task; she now considered it "a rosy art." She certainly did not dream that someday she would write and publish a cook book (Frau Erica's Deutsch-Amerikanische Cookbook, 1892).
Very poor but very happy
Wilhelm and Adelheid with their first child, Carl Friedrich Wilhelm, who died in infancy. Carl was born Oct. 16, 1868, and died Sept. 6, 1869. Fieks enclosed the original photograph when she sent this essay to her nieces.
F.P. Ford, Photographer, Kendallville, Ind., May 11, 1869
Wilhelm's troubles and problems on the farm never ended and were so disappointing! If wheat brought the highest price per bushel, his fields happened to be filled with rye and oats. Their favorite horse, Jim, broke a leg and had to be put out of existence. But Wilhelm always looked toward an inspiring evening after his day's work. He and his Adelheid kept ink and pen always within reach. As Wilhelm was an active church member at St. John's congregation at Kendallville, there were records and books for him to work at.
A very dark cloud settled over their happy home in September 1869. It was God's will that after a few days of sickness, their darling "Fidie" was taken away by death. Only God could provide strength and comfort to the sorrowing hearts of the stricken parents! Their home remained empty until September 22, 1870, when their hearts rejoiced over the birth of a daughter, Marie Theodora. Then in 1872 on August 23, the second daughter was born, Dora Elizabeth Johanne!
Adelheid, so busy with her little family, often looked for help and assistance. Once, an immigrant from Germany, Anna Flegler, who wished to be trained to be a good helper in American households, stayed for a year. There was also dear Trena Flumme [sp?], who very often came as an angel of mercy. And not to forget our Tante Caroline Ahrens. She not only stayed a year, but made her home with the Muellers 25 years.
In 1874 on the 28th of June, a son, Ernst Heinrich Constantin, was born, and two years later on August 28, 1876, another daughter, Johanne, was born. Great joy and happiness for the young parents to be surrounded by four lively and healthy children. Little Johanne was a very special pet of her brother Ernst. To please her was his greatest joy. When Johanne was in her third year, she was stricken by brain fever and was taken out of this happy family circle by death! Only three weeks after Johanne's death, another daughter was born on September 12, 1878.
I often wondered why my dear parents selected four long names for me — Frieda Katharine Magdalena Caroline. Years later, brother Ernst would chant those named to me, placing an accent on the last letter — all ending in A. It took years for brother Ernst to allow me to slip into his heart as a loving sister or to replace his pet Johanne! Often while playing, I had to hear the same story over and over: "You should have seen my sister Johanne. She could carry heavy iron chains on her shoulders." As a playmate, I always remained a "big flop" to my brother Ernst.
Mother told me of this incident: While she carried me in her arms on the way to the doctor's office, as I had a high fever, mother — sad and worried — heard a woman calling, "Lady, you lost your baby's shoe, and when you lose your baby's shoe, you will lose your baby too."
To my brother's disgust, it was my habit to tell my mother every morning about an awful dream (the very same one for weeks and weeks): "The broom walked upside down and had big eyes looking at me." I was very careful to see if the coast was clear of my "teaser brother" before I began to tell my dream. One morning while in the midst of telling mother my dream, who had been hiding in back of the door and comes carrying a broom upside down — my brother Ernst! That was the end — no more dreams of brooms with big eyes were ever reported again.
One summer's day, my two sisters, Mimi and Dodo, were lost in a cornfield among the tall cornstalks, neighbors and father frantically searching for the little tots. At last father heard their little voices, and coming closer, he found his precious little daughters on their knees praying: "Lieber Gott mach mich fromm, lass ich zu dir in den Himmel komm, Amen."
One night my father came to my bed and said, while wrapping me in a blanket, "I am going to show you a large, beautiful star, which we can see only tonight." He held me in his arms and we all — mother, Mimi, Dodo, Ernst — stood near our home and marveled at that beautiful comet with a large and long silvery tail. Throughout my long life, I often wondered if that comet was as large in size as I remember it. (This comet happened in the time of 1887 to 1884. [sic])
One spring morning I overslept and missed the family breakfast. Coming to mother in the kitchen, she so lovingly took me in her arms, then placed my breakfast before me — a glass of milk, a slice of bread spread with dark brown applebutter. Mother's eyes were twinkling when she whispered, "You may dunk your bread this morning." While dunking my bread, the milk running off the dark applebutter made all kinds of pictures — castles, flowers and stars, just like in fairy tales. It was no fairy tale that a real bird came to the window and sang a song just for me! Too many wonders for a five-year-old? Thank God I never lost them.
It was always a big treat when our city friends came to visit us on the farm — the Beckmanns and Lohmanns. At that time father had to keep an eye on those city boys. They loved to tease and torment the cattle. Romping around while holding tight to a calf's tail was one of Charlie Beckmann's stunts.
On Sunday morning, rain or shine, the Mueller family drove on an open spring wagon to Kendallville to attend church service and "Christenlehre." If on account of sickness this was not possible, we would have a service at home — mother reading a sermon of Dr. Walther or Wyneken. We children thought those sermons were much too long. Our Sunday afternoons were especially interesting! Mother would entertain us — reading a chapter from Heidi or other books. But the highlight was when mother sat at the piano playing "The Prisoner and the Swallow" or "The Maiden's Prayer."
The Mueller home was famous as a resting place for missionaries and pastors. When missionary Wyneken stopped for a rest when on horseback (he had been exploring the country around Ft. Wayne), he always felt refreshed in body and soul after a visit with the Muellers.
On August 28, 1881, Wilhelm Ludwig Johannes was born, and on February 15, 1883, Paul Gerhard. Now the happy family circle consisted of three sons and three daughters. A lovely picture in the evening — the hanging lamp over our large round table shed a cozy light over all! That round table to this day is connected with many dear memories. Once on mother's birthday, father asked me to help prepare mother's birthday table. I should arrange the gifts! What were the gifts father had bought? Eight cups and saucers, eight plates of white porcelain decorated with a three-leaf bronze-gold clover. Father had also bought eight smoked fish. Following my own idea, I placed the eight plates around the edge of the table and on each plate a smoked fish. My heart was filled with pride and happiness; I thought it was a beautiful arrangement.
One year a cousin, Hanne Boese, lived with us to join Mimi and Dodo while mother instructed all three — at regular hours in the afternoon. Often Ernst and I asked mother to allow us to be in the same room and we promised to be as "quiet as a mouse." Cousin Hanne already in her 14th year, read aloud in class a part from Shakespeare. One quotation stuck with brother Ernst, hearing it so often: "Sir John, why are you so fretful: You cannot live long." Many years later, when brother Ernst studied at Concordia College in Milwaukee, an instructor said in class, "Who can give me a quotation from Shakespeare?" There was only one who was able to comply: "Sir John, why are you so fretful? You cannot live long."
One summer our Uncle Enno and Aunt Mary, their son Willie and little Emma were our guests, as Uncle Enno had to regain strength and health after a siege of thyroid (?) fever. It was a happy time for us children to have such dear playmates, and our love and friendship lasted throughout our life.
Sister Mimi was sent to La Porte, Indiana, to live with Uncle William Rickmeyer (mother's step-brother) while she attended school and confirmation instructions. Mimi was confirmed by Pastor Niethammer, and when she left to join her parents, sisters and brothers again, she wished that "someday" she might return to La Porte — who knows, maybe marry someone in La Porte!
More and more the desire to leave the Mueller farm grew in the hearts of Wilhelm and Adelheid. A plan to make this move was made, asking the Lord to bless this new venture. Late in the summer of 1885 we moved to Kendallville, to live close to church and school. After 20 years of living on a farm, what will city life have in store for us?
— April 19, 1963